Lotsa people have been sending this my way, but the initial credit goes to Kili McGowan. I'm (obviously) not torn up about this. Although I do want to say that you probably wouldn't want to put "freshly ground black people" on your food. It would make it too salty. (rimshot!) I'LL BE HERE ALL WEEK! TRY THE VEAL!
See the article below…
Publisher destroys 7,000 copies of The Pasta Bible after 'silly mistake' causes outrage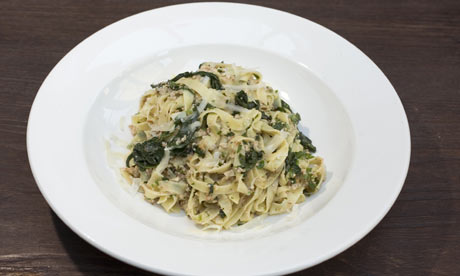 Disclaimer … this plate of tagliatelle contains no 'freshly ground black people'. Photograph: Martin Argles
A recipe for tagliatelle with sardines and prosciutto has proved a little too spicy for Penguin Australia, after a misprint suggesting that the dish required "salt and freshly ground black people" has left the publisher reaching for the pulping machine, rather than the pepper grinder.
It's a one-word slip that only came to light after a member of the public got in touch, and which has sent all 7,000 copies of The Pasta Bible at Penguin's warehouse to be destroyed, an exercise which head of publishing, Robert Sessions, told the Sydney Morning Herald would cost $ 20,000. Read More…