So Christmas is over, you know what that means…
IT'S TIME TO GET YO' KWANZAA ON!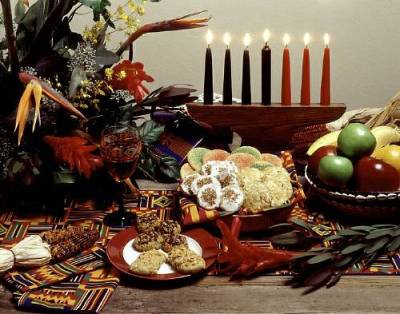 Oh man! I can't wait! All the Kwanzaa parties. Attending the Kwanzaa Festival. Getting stuffed on all that Kwanzaa loaf. The Kwanzaa parades. (I'm sure your city has one.) Seeing all the local businesses decked out in Kwanzaa decorations. Waiting for the second night of Kwanzaa when Kwanzie, the Kwanzaa Sprite, comes in through your kitchen window and Kujichagulias all over your living room!!!
Nope. None of that happens. It doesn't even happen in the most Kwanzaa-y of places.
Damn you, Kwanzaa! I love you and I hate what you have — and haven't — become. For those of you not in the know, Kwanzaa is an African-American Winter Holiday that was invented by a black dude in 1966… and that's pretty much where the story ends. It's seven days long, starts the day after Christmas, and for each day you light different candle on a candelabra — Which is probably where the problems between the blacks and the Jews began. Think about it.
Black Dude (Maybe Dr. Ron Karenga who invented Kwanzaa): "…Yeah so that's the story of Kwanzaa.
Jewish Guy: "Really? It's several days long. You light a candle everyday and it happens in December. WOW! Wherever did you get that idea?"
Black Guy: "What do you mean?"
Jewish Guy: "After all the hard work that us Jewish people did with black people during the Civil Rights Movement, you scoop our holiday?? THIS is how you treat us??"
Black Guy: "I don't understand what you're getting at."
Jewish Guy: "Nothing. Don't worry about it… In a completely unrelated note, your bank loan has been denied."
Read More…